Club Updates
STORM UPDATE FOR WEDNESDAY, JANUARY 17TH
Update 1:30 pm - All Group Fit Classes are on for this evening. The Kids Zone will be closed this evening.
Update 12 noon - Junior Tennis Lessons will be held as usually this afternoon.
Update 6:30 am - All morning Group Fit classes are canceled as are Team Tennis Matches. We will decide on evening Group Fit classes later on in the day.
We are going to play this one by ear. The Cedardale Andover will be open regular hours.
Group Fit Classes:
5:30 am Interval Body Blast - Please call the club to see if class is on. Our early morning instructor will make the call in the morning. The rest of the Group Classes will be decided in the morning and be posted on Facebook and communicated by email.
Tennis - Team matches will depend on school cancellations. If school is cancelled in Andover then the matches will be cancelled.
Junior lessons will be decided by noon.
Evening programs we anticipate to be held.
Aquatic Center - We plan to open regular hours and hold morning Water Exercise classes. Junior Swim lessons will be called by noon.
Commit to Get Fit - on as scheduled.
Call the club with any questions and be safe!
STORM UPDATE - FRIDAY, JANUARY 5th
Cedardale Andover will open on schedule. We have canceled the first two Group Fit classes. No 5:30 am HIIT or 8:30 am Strength class. Please call the club before coming over for classes later in the morning.
STORM UPDATE - THURSDAY, JANUARY 4TH
Cedardale Andover will be open 5:00 am - 12 noon on Thursday, January 4th.
The following Group Classes will be held:
5:30 am Spin
9:00 am Spin
10:00 am Yoga
All other Group Classes and Junior Tennis Lessons are cancelled. Be safe and enjoy your snow day!
Update: July 24, 2017
The Haverhill outdoor facility is closing as of 5 pm today due to the inclement weather.
Update: June 27th, 2017
The Haverhill outdoor facility is closed due to the severe weather we are experiencing.
Updated: June 16th, 2017
We are very excited to be opening for our summer season Saturday, June 17th. Things will be a little different this summer as you all know, so we want to go over a few of the basics:
Hours
Pools 8 am - 8 pm (7 pm as of August 21st)
Tennis 6 am - 8 pm (adjusted for the season as the summer progresses)
Pavilion 11 am - 8 pm
Snack Bar 10 am - 6 pm
Parking
We will be using the usual parking lots this summer. Handicap parking will be located near the outdoor playground/hardtop area (see below for specific details on handicap parking). Please be sure to use the crosswalks while crossing the street.
Member & Guest Check-In
To check into the facility please cross the street using the crosswalks and proceed up Boston Road towards the white house. Turn right down the paved pathway just before the white house. Follow pathway down along where the building was and across to the right which will lead you to the outdoor desk. All check-in, court bookings, membership services and program registrations will take place at the outdoor desk. Please refer to the map below: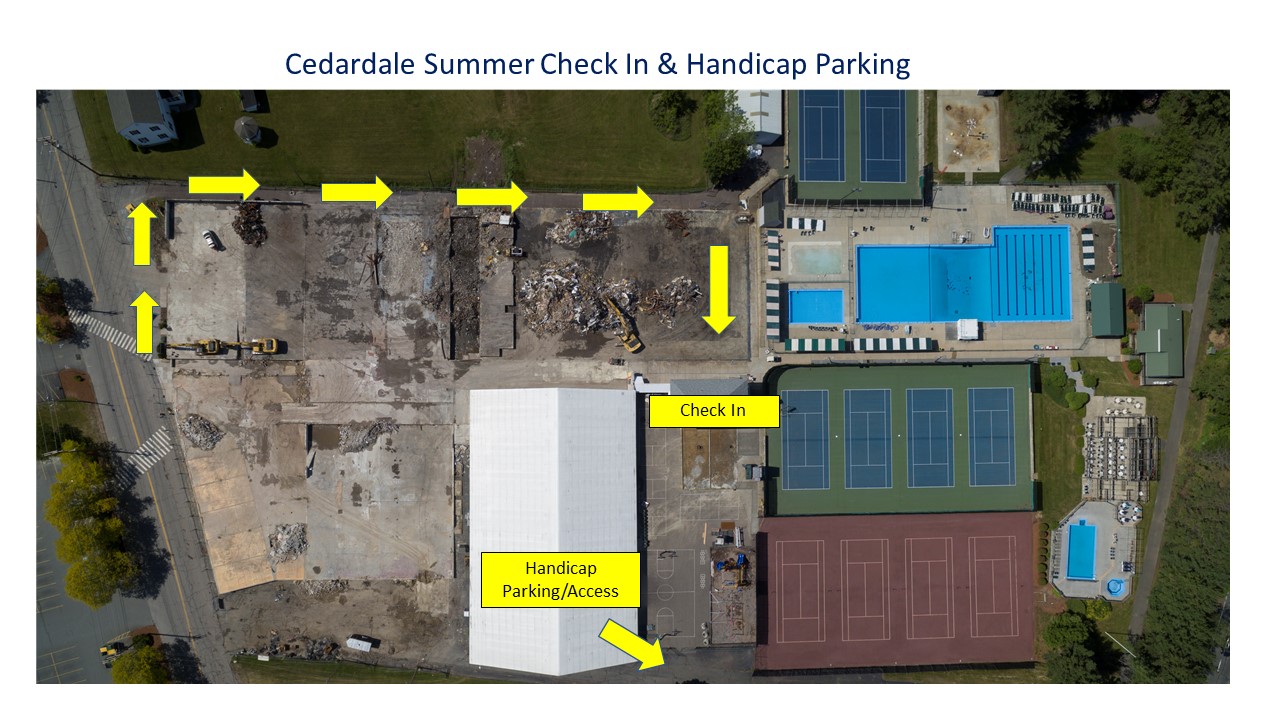 Handicap Parking/Access
The driveway between Cedardale and DiBurro's will be the access for those needing handicapped accessibility. Handicap parking spots will be located just outside the outdoor gate by the playground. Instructions will be posted on how to gain access to the outdoor facility. We ask that those using this area drive slowly along the driveway. Upon exiting please speak with a staff member at the outdoor desk to let them know you need to leave and they will open the gate.
Payment Options
We will be accepting cash, check or credit card on file for any purchases made while at the facility. We will not be accepting charges to Cedardale accounts this summer. The Food Pavilion and Snack Bar will be operating as usual. You will also be able to purchase necessity items such as tennis balls, swim diapers, sunscreen and more at the check-in desk. . This first week we are still preparing our systems - internet and club management system so to be safe we recommend you use cash or check for the first week.
Bad Weather Procedures
In the event of inclement weather please call the main number (978) 373-1596 and select the option for Cedardale's Summer Outdoor Desk to determine if we are open. We will also be posting changes to our schedules on the Cedardale Health & Fitness Facebook page and our website Cedardale.net
In the event of thunder all pools must be cleared for 15 minutes from the last sound of thunder. Members may remain at the facility.
In the event of lightning, the entire facility will need to be cleared. We ask that members proceed to their cars. We can not reopen until 30 minutes after the last sight of lightning. Parents who typically leave a child at the facility without a parent please keep in mind we do not have any indoor facilities this year and someone must be available to pick up your child in the case of a weather closing.
Once again we are looking forward to a fun summer at Cedardale and we thank you for your patience with us as we have been confronted with a great deal of uncertainty. If you have any questions please feel free to call 978-373-1596.

Update: May 9th, 2017
We are progressing as planned for an opening of our outdoor summer facilities on Saturday, June 17th. We have put together a few questions and answers to help you decide whether a Summer Membership is right for you!
What does a Summer Membership cost?
We will once again offer individual, couple, and family package plans for our Summer Membership. Because there will be no health club facilities to accompany the Summer Membership the price has been significantly reduced compared to last year's prices. Please call our Membership Department or our Bookkeeping Department at (978) 373-1596 ext 1 or 2 for Summer Membership Pricing.
Can we tour the facility?
Right now we are unable to tour the outdoor facility due to the ongoing demolition. Please refer to our website for our summer video and pictures of our outdoor facilities.
How will we access the outdoor facility?
The best way to enter the outdoor facility will be determined once demolition is complete. Construction on the new facility will not begin until September. There will be no building or indoor access this summer.
Is the opening date a guarantee?
No. It is not 100% guaranteed. The opening of the outdoor facility is dependent on receiving city approval which can only be received once the demolition is complete. We have been working closely with the city of Haverhill and they are optimistic and excited to get us back up and running and foresee no problems with opening on that date.
What are the guest fees?
Guests fees are similar to past years:
Guests (18+ yrs old) $12 per day
Juniors (3 - 17 yrs old) $ 8 per day
Toddlers (1 - 2 yrs old) $ 5 per day
All guests are limited to 1 visit per month. The only exception being guests who live 25 miles outside of the club. Keep in mind we do not refund or issue rain checks due to inclement weather.
Are swim lessons and swim team still being offered?
Yes, we will be offering both swim lessons and swim team with the exception of Preseason swim lessons. Please click the appropriate link for detailed information.
Will there be court fees in Haverhill?
No. There will not be any outdoor court fees or round robin fees during the summer in Haverhill.
What will be offered for tennis programs?
The offerings for tennis programs will be similar to last year with the addition of more evening programs. We will have less USTA team play in the evening in Haverhill so that will give us the opportunity to have more Round Robins. We will be offering our traditional weekend round robins. Please click for Junior Summer Tennis Lessons. Junior Tennis Camp has yet to be determined.
What happens in bad weather?
If there is heavy rain or thunder we can use the pavilions and bath houses to take cover. However, if there is lightening everyone will have to be quickly evacuated to their cars.
What will be available for food & beverage?
We will be operating both the Food Pavilion and the snack bar as usual. Please plan accordingly as there will be no indoor Courtside Lounge service to spread the traffic out. We do allow members to bring in their own food. Beer and wine is sold at the Pavilion. NO Alcohol can be brought into the facility.
Can my nanny bring my kids to the club?
Yes, your nanny can bring your kids to the club. Your nanny will need a nanny pass. You can purchase a 30-day pass for $80 or one for the whole summer for f$160. This pass does not provide membership privileges to the nanny. Nannies can only access the club with the children. If your nanny wants to use the outdoor club with full membership privileges they would need to purchase an individual summer membership. The nanny pass is for individuals 14 years and older. Please contact our Membership Dept. to find out what works for you and your nanny best.
To sign up for a Summer Membership please feel free to call (978) 373-1596 ext 1 or 2
Update: Monday, May 1st
We are happy to inform you that we are moving forward with plans to open our outdoor facilities on Saturday, June 17th. Details on membership pricing and programs will be forth coming this week. The opening of our facility is subject to city approval, however, communication with the city has all been positive and there appears to be no anticipated problems.
We know many of you have been waiting patiently for information on our summer operations and we truly appreciate your understanding in this matter.
Update: Thursday, April 20th
Cedardale Health & Fitness Andover will open May 1st. We are so excited to inform all our members that we are opening the Andover site on Monday, May 1st. Cedardale Andover is located at 307 Lowell Street in Andover, MA (formerly the Boston Sports Club).
Membership at the Andover facility will include all group fitness classes, a fitness center and tennis court booking privileges as well as member discounts on all tennis programs. Supervised child care will be available as will nutrition counseling and the Commit to Get Fit Wellness Program.
The monthly membership dues at Cedardale Andover will be $39 per month. Programs and services will be at an additional fee.
Preview tours and presales will be available Monday, April 24th through Friday, April 28th, 10 am - 3 pm. You can also join by calling our Administrative Office starting today. Our offices are open for calls Monday - Friday, 9 am - 4 pm.
Please click the links below for specifics in each areas:
Membership/Guest/Kids Zone Tennis
Group Fitness Class Schedule (updated 9/5) Fitness
Nutrition Counseling Commit to Get Fit Wellness Program
Update: Thursday, March 23rd
Great News! We have secured a location to offer Group Ex, Fitness and Tennis! We will be located in the former Boston Sports Club on Lowell Road in Andover, MA. We hope to up and running in a few weeks. Stay tune for more details!
Update: Tuesday, March 21st
Cedardale is very excited to announce that we are taking the first step to getting Cedardale up and running. We are close to finalizing an agreement that will allow us to offer tennis, group exercise and fitness in an alternate location. This is especially important news for our tennis program, as we know many of our members are in the process of making plans for the summer leagues. More information and specific details will follow in the days ahead.

As you know, our ultimate goal is to rebuild in our original location, though we all know this will take time. Our intent is to keep you as informed as possible throughout the process.

We are also working very hard toward opening our outdoor facility this summer. Our plan is to offer a summer membership that would include swimming, tennis and all programs that accompany those activities. Details of our summer membership will be confirmed and communicated in the coming weeks.

Thank you all for your continued patience and understanding as we work through our next steps. We look forward to seeing the Cedardale Family back together again soon!
The Cedardale Team
Update: Monday, March 13th
The Cedarland Aquatic Center as well as the aMAZEment Center will be closed on Tuesday, March 14th due to the anticipated winter storm. Swim lessons will be made up on April 18th.

Update: Friday, March 10th
What is the status of the Club as a result of the fire?
Cedardale is closed indefinitely. We are working closely with several outside entities, from city officials to insurers, to determine how best to move forward.
Is there a temporary location for members to use?
Though we have looked at several sites, we have no specific plans in place as of yet.
When can I get my personal belongings from my locker?
Unfortunately, we cannot access that section of the building at this time. We will let you know as soon as possible when you can collect your belongings.
What if my personal belongings were destroyed by the fire? Will I be reimbursed?
Yes. We will have a personal claim form that we will send to all locker holders to complete that will need to be submitted to the insurance company.
Did you deduct dues for March?
No. We did not deduct any dues for the month of March nor will we for any future months.
If I paid annually will I get a refund?
Yes. We will refund the unused portion of your annual membership. Please call (978) 373-1596 to speak with a bookkeeper to process your refund. Our temporary administrative offices will be available to handle calls Monday - Friday, 9 am - 4 pm, as of Monday, March 13th.
I signed up for a program. Will I get my money back?
Yes. We will refund all fees for programs that have not started. Please contact our administrative office at (978) 373-1596 Monday - Friday, 9 am - 4 pm as of March 13th to process your refund.
I was in the middle of a program. Will I get my money back?
Yes. We will refund any unused portion of an ongoing program that was being held at the main club. Please contact our administrative office at (978) 373-1596 Monday - Friday, 9 am - 4 pm as of March 13th to process your refund.
What about the Cedardale Summer Membership, programs, and camps?
Although it was untouched by the fire, we are unclear as to whether we will be able to open our outdoor facility.
Will the Cedarland Fit 'n Fun Summer Camp continue on as planned?
Yes. The Cedarland Fit 'n Fun Summer Camp will be in full operation. Registrations are now being accepted. Applications are available online at www.cedarland.net under Camp. Questions can be directed to Beth Bailey at (978) 521-7700 ext 101 or Janelle Boksanski at (978) 373-1596.
When can I use the tennis courts?
None of the tennis courts are accessible at this time. We will let you know as soon as play can resume.
When can I use the aquatic facilities?
All Members are welcome to use the Cedarland Aquatic Center for their swimming needs. Please visit the Lap & Family Swim schedule located on our www.cedarland.net under the Aquatic Center for available swim times.
Will my membership be honored at other facilities?
Local fitness facilities and studios have been very generous in their offers to Cedardale Members. Please call the facility you are interested in directly to find out how they are working with Cedardale Members.
What caused the fire?
We have not received an official statement as to the cause of the fire.
Update: Thursday, March 2nd
As of today the building was still in the hands of and actively being evaluated by the Haverhill Fire Department so we do not have access to the building. We are meeting with insurance personnel and adjusters daily to develop a plan to provide temporary exercise space for our members as soon as possible. We are hopeful that we can get the bubble tennis courts accessible/playable in the near future. We did not deduct any dues for the month of March. We will handle any account changes once we establish a temporary administrative office which we hope to do by next week. We appreciate your patience and understanding in the process and we will continue to update you on our progress through the website, email and facebook. If you are not receiving emails and would like to please email: Diane Bolivar at dbolivar@cedardale-health.net

Update:
All members are welcome to use the Cedarland Aquatic Center pool for their swimming needs. The Aquatic Center is closed today, Wednesday, March 1st but will open at 8 am on Thursday, March 2nd. Please refer to the Lap & Family Swim Schedule for swim times. We do have occasional groups that use the facility so we recommend you call the Aquatic Center at 978-521-7700 ext 105 to be sure on availability.
Updated: 3/1/2017 at 2:10 pm
Cedardale suffered a devastating loss of facility due to fire early this morning. The main gym, lounge, CrossFit, Parisi Speed School, Kids Corner, and Studios have all been affected. No one was injured and we appreciate the support from area fire and rescue.
Our employees are safe. Our Members are safe. We will be eternally grateful for the offers of assistance. We will be closed until further notice.
We will continue to post updates to our website and facebook pages as often as possible. We will strive to resume operation as soon as possible. Although we have much to do and questions to answer regarding membership dues status, etc., we will address your concerns as soon as we can. Your patience is very much appreciated. Thank you for your support and patience.
Cedardale Owners & Managers
Posted: Wednesday, March 1st at 10:45 am