Tennis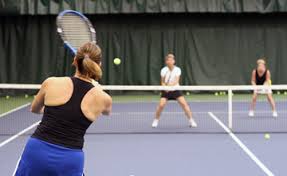 Tennis is our Game! For over 47 years we have been the premier provider of all things Tennis in the Merrimack Valley.
Our offerings include:
4 Indoor Courts at Cedardale Andover
7 Newly Resurfaced Indoor Courts at Cedardale Haverhill (due to construction 4 indoor courts unavailable until mid-October.)
10 outdoor courts at Cedardale Haverhill in summer
Each location is supported will a full complement of tennis programs:
lessons
clinics
intra & inter club leagues
round robins
aerobic doubles
social mixer and tournaments
Our experienced and enthusiastic staff will improve your game and get you playiing tennis right away. Whatever your level or interests, Cedardale has what you are looking for! Please take a minute and explore each of the tabs to on the left to see all we offer.
Cedardale Andover Membership Dues: $39/month

Includes:
tennis privileges at both Haverhill & Andover
fitness
group ex
Please call to enroll - 978-373-1596 opt 1
Cedardale Haverhill - Indoor Tennis Membership Dues: $10/mth
Includes:
tennis privileges at Cedardale Haverhill
Click for Facility Details & Membership Application
Upcoming Events
15 Dec

Adult Tennis Round Robins in Haverhill

Looking for some Round Robin play? Lots happening in Haverhill. Check it out!

Aerobic Doubles

Practice your tennis in this heart throbbing workout. Classes offered in both Andover and Haverhill on a variety of days and times.

Haverhill Indoor Tennis

It's official - the indoor tennis courts in Haverhill are open and they look awesome!

Court Fees

$28 per hour
Eff. 9/10/2018

Click for Reduced Court Fee Opportunities




Pro Shop Items Available

We have what you need - tennis racquets to demo and purchase, overgrips, wraps, balls and more. Looking for something special? Email Heather Moore at hmoore@cedardale-health.net

We do special orders!