What Our Members are Saying
Julie: I feel safer here than going to any grocery store. No hesitation about coming back.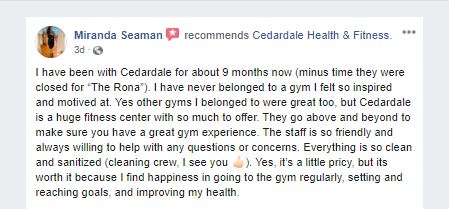 Mike: I tell all my friends, it's great here. Everyone has been wearing their masks and cleaning up as they workout. No hesitation about being here.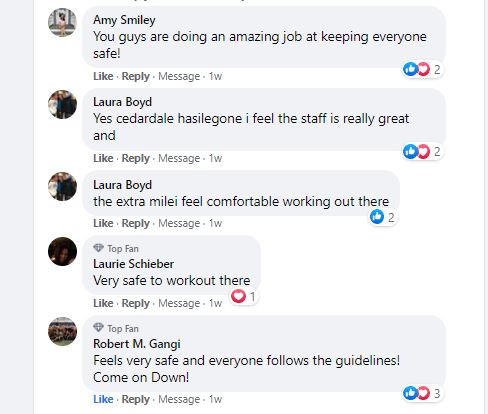 Lauren: Oh my god - it's SO good to be back! I was running out of weights and things to do at home and just needed to be back in the gym with people again.
Mike: I'm getting 20 extra MEPS / CSC class because I'm being coached! Feels so good.
Theo: It's obviously a personal choice to come back to Cedardale but I can't imagine feeling any safer anywhere else than I do right here.
Rick: Cedardale was clean before this all happened - they've always been right on top of cleanliness and safety. And now they've taught all of us to do it too!!
Kathy: The warm pool is my happy place. Was told that I would need both knees replaced (during the shut down) due to arthritis but after 3 weeks of doing my water exercises my knees feel 50% better! I may still need a replacement but at least I can get back to doing the other things I enjoy - like Spinning.
Caryl: Thank you SO much for everything you've done to keep us safe. It's really amazing how much energy you've put into making Cedardale feel so good for everyone. I'm so glad to be back!
Interested in Membership?
Enter your information below to receive information on how you can get started at Cedardale Health & Fitness.