Delay the Disease - Cedardale's New Wellness Program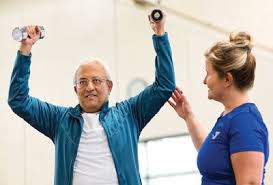 This national recognized program designed by OhioHealth Neuroscience is designed to empower those living with Parkinson's disease by optimizing their physical function and helping to delay
the progression of symptoms.
Participants report:
Improved quality of life

Regained ability to successfully manage the disease

maintenance of independence
Click for OhioHealth Delay the Disease Video
Exercise plans are adapted to all levels of the disease and is valuable to newly diagnosed as well as progressed state.
Upcoming Session Dates/Times: Tuesdays & Thursdays, 12:30 - 1:30 pm
March 5th - April 11th
May 14 - June 20
Upcoming Informational Sessions: Thurs., Feb 28 (at Cedarland Aquatic center)
Tues., May 7 (Main club)
Fee: $180.00 /person
Please register for the informational and program by emailing Margie Galanos at
mgalanos@cedardale-health.net The March session will be held at the Cedarland Aquatic Center conference room. The May session will be held in the newly opened main club.
Ready to Enroll?
Enter your information below to receive information on how you can get started at Cedardale Health & Fitness.