Adult Instruction
Cedardale provides our adult members with the highest quality of instructional programs. We offer private or small group instruction as well as group classes for all ages and ability levels. One of our largest program is our Adult 101 - 103 prorams which are focused towards new players or those who have taken time off from the game. We offer day and evening classes, along with a starter racquet package for those who are interested. We also provide group instructional clinics for players who want to improve their game or simply work on a specific stroke. All groups can be set up through the tennis department. Adult lesson programs are open to Non-Members.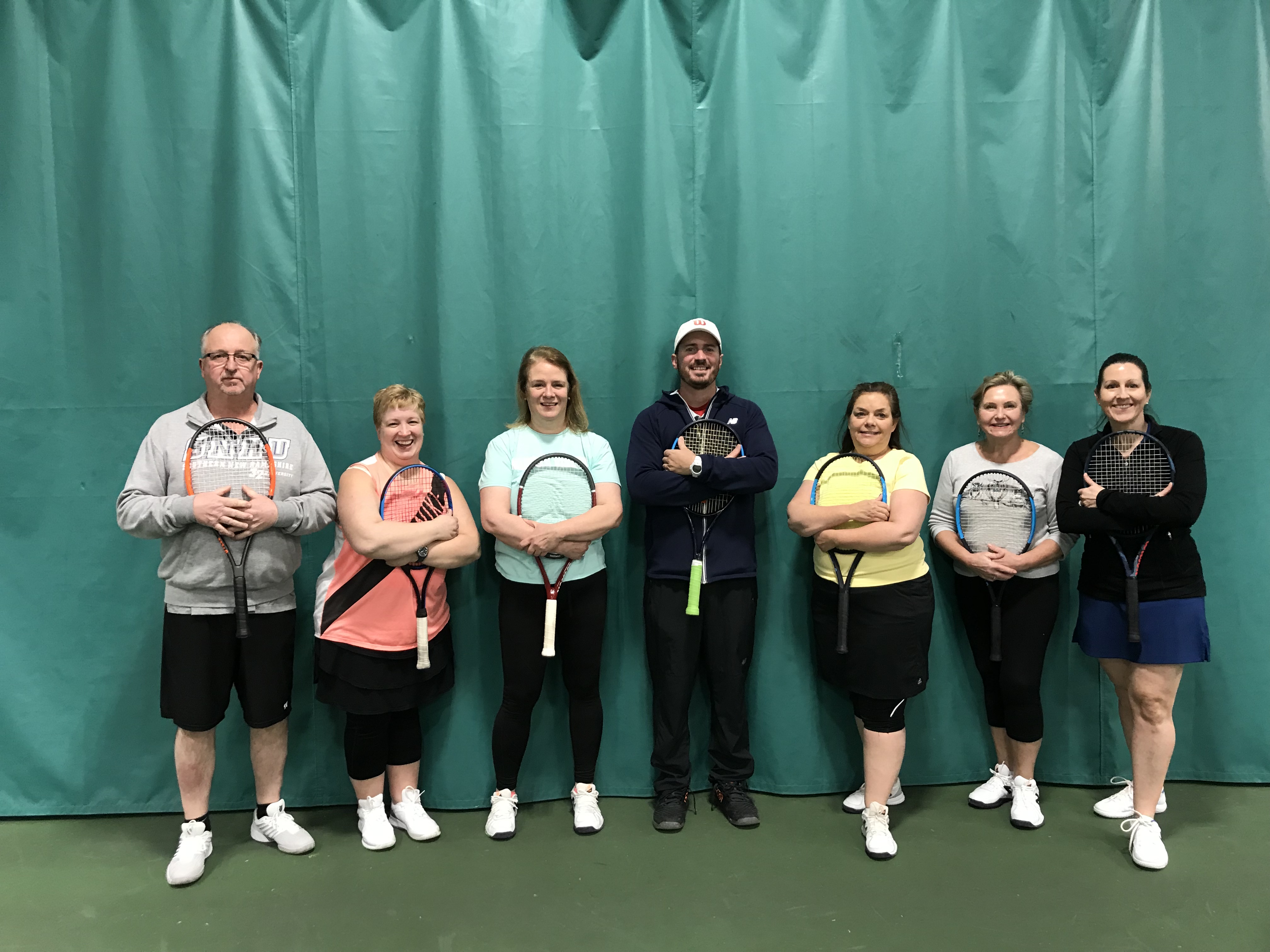 GROUP INSTRUCTIONAL PROGRAMS
Our beginner lesson programs take you from your first swing to actually playing a game of doubles! All our beginning lesson programs are open to Non Members.
Beginner Lesson Programs
ADULT 101 - Rally Right Away
Our main objective in this first level of lessons is to get you to rally making learning the basics of tennis fun.
Level: Beginner/ 1.5 - 2.0
Days: Monday or Wednesday
Times: 6:30 - 7:30 pm
Fee: $102 per 6-week session
ADULT 102 - Position + Control
This class is designed to take your game to the next level. We will focus on getting your body in the right position so you will be able to hit different directional shots - cross court and down the line.
Level: Intermediate Beginner / 2.0 - 2.5
Days: Monday or Wednesday
Times: 7:30 - 8:30 pm
Fee: $120 per 6-week session
ADULT 103 - Play Now
Once we have built a strong foundation we move on to basic playing strategies. The goal of this class is to get you to play doubles. You will spend the hour lesson doing doubles drills mixed in with doubles strategy. Also, offered at this level is a weekly supervised round robin session which will get you playing the game!
Level: Advanced Beginner / 2.5 - 3.0
Group Lesson Day: Monday or Wednesday
6:30 - 7:30 pm

Round Robin: Sunday
5:00 - 6:30 pm

Fee: $120 per 6-week session
$10.50 /week for Round Robin
Session Dates:
Session 1 September 23rd - October 28th
Session 2 November 4th - December 6th
Session 3 January 6th - February 10th
Session 4 February 24th - March 30th
Session 5 April 6th - May 11th
To register for any of the above programs or if you have questions please email tennis@cedardale-health.net
Private Lessons
Our pros are available to teach private or group lessons that fit around your busy schedule.

1/2 Hour Private $46.00
1 Hour Private $84.00
1 Hour Semi-Private $46.00/pp

There is $7.00 surcharge/lesson
for Non Members.

Contact Tennis Director Ryan Adamonis at radamonis@cedardale-health.net for assistance.
EVALUATIONS

We offer all members a complimentary tennis evaluation which consists of a short hitting session with one of our Tennis Pros. This helps us identify your playing level and enables us to get you playing in the appropriate programs. Please contact tennis@cedardale-health.net to schedule your evaluation.
JUNIOR TENNIS LESSONS
Click for complete details on our Junior Lesson Program
Please contact Tennis Director Ryan Adamonis at radamonis@cedardale-health.net for more information or to schedule/register for a lesson/class.
Ready to Enroll?
Enter your information below to receive information on how you can get started at Cedardale Health & Fitness.